Apple, Cranberry, Raisin Stovetop Fruit Torte for One Recipe - another 'steamed baking' experiment.
Topic: Recipes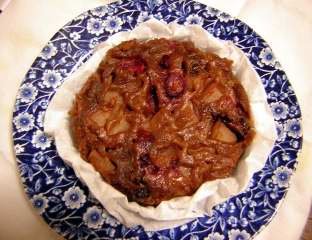 I had a hankering to try out this idea yesterday. What prompted the idea? Someone had arrived at my blog entry for stovetop chocolate bread by googling "how to bake a cake on a stovetop", according to my traffic logs. I usually replicate such searches to see just where my site turns up in Google. In the process I look into any results that intrigue me. Such a one, and I've found and read this one before, is an article by Ruth Ross on making stovetop steamed breads and cakes in Mother Earth News from the 1970's. The article reinspired me, gave me the idea to try a fruitcake. I peruse recipes to get a general gist or feel of how to make something. I find it so much more fun to invent my own recipe just to see if I can do it, or to see what comes out. However, I use a mix of eyeball measuring and exact measuring, and only write things down afterwards. I try to hold on to the memory until I get to a pencil. This is much like painting. I cannot know until I see how things mix up if the proportions are right. Everything depends on everything else - as in Life.
I started out by imagining what fruit I had on hand, and did I want to try to make it like a fruitcake or like a pie without a crust or perhaps a cross between the two. Pie without a crust called louder. Would I use the Macintosh apple or the Empire apple - Mac was better for cooking. But wait, this lot of Macs had been so tasty. I had to eat some of it first. Then there was a bowl of cranberries that had never made it into sauce at Thanksgiving. I salvaged a handful of those. And I had some good raisins. This was a perfect combination. The old raspberries in the freezer would have to wait for another experiment.
Read More...
Posted by Catinka Knoth at 2:09 PM EST
Updated: Sunday, 21 January 2007 2:50 PM EST