Name: Catinka Knoth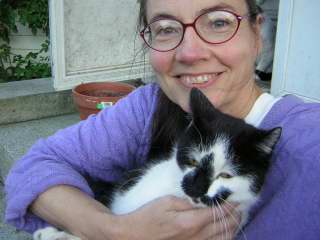 E-mail: info@catinkacards.com
Location: Rockland, Maine
Birthday: 3 January, 1951
Bio:
The past ten years I've been painting a lot of watercolors of Maine, which I sell as cards and prints. I'd like to make them into a picture book of the area I live in, Midcoast Maine. In the meantime I continue to make notecard sets based on local towns. That's what people here know me for.
My animal and mystical/fantasy art has been waiting too long while I've been busy with the Maine theme. I let it out at Christmas when I make a new Christmas card to send out. Or with some of my watercolor class lessons. With this website as an outlet, I am able to share more of this work, especially with my coloring pages.
I have been holding weekly watercolor classes for adults since 1997. I do childrens workshops in drawing, watercolor, origami, paper mache. The past two years, since 2007, I've been teaching a free weekly children's drawing workshop at Rockland Public Library, sponsored by Wendy & Keith Wellin.
Born in Hamburg, Germany, came to America by boat at age 1 1/2. Lived in New York City until age of 10, Montclair, NJ, until 17, art school at Philadelphia College of Art and Pennsylvania Academy of Fine Arts (BFA), and back to NYC for 17 years. Had jobs in restaurants, offices, printing trade, and public school system as a substitute teacher and art teacher.
Moved to Maine in 1992, worked several years with adults with developmental disabilities. On the way home from the job, I'd stop somewhere to do a watercolor of a scene. In the warmer weather the paintbag could stay in the car. I could also paint outside. If it was cold, I'd paint in the car. My job lasted until I had to give it up because it interfered with a craft fair/sale I wanted to do. By then I was selling almost enough cards and prints while living a frugal lifestyle to support myself entirely with my art and teaching (barely, since 1996).
This is another transition phase I'm going through. Making cards by hand and hand mounting prints got too rough on the hands and was a health hazard with the toxic spray glue needed to make my product. I've been cutting way back on production. There also are not many local venues for direct selling - they all happen on the same few days. It would seem such a simple thing to sit and scan art into the computer so that it can be uploaded into a server somewhere and made available for everyone. To me that is far more tedious than standing for an hour or two at a copy center making copies of paintings, going home to cut out the pictures & glue them onto cards, then go out and sell them directly to the public at a sale the next day. The making by hand has to stop though - it is physically destructive. I will slowly work on getting images scanned so that they will be easily available.
Catinka Knoth - Maine Watercolors
Note: "Home page" links at top of page and below are to C Knotes, my blog.
Interests:
Blog Created:
Saturday, 23 July 2005
Last Updated:
Friday, 30 April 2021 - 12:09 PM EDT
Blog Entries:
408