Chocolate Cake Recipe for One - or a Kids' Teaparty
Topic: Recipes
For years it has been a private tradition to make myself a chocolate cake on my birthday. It is usually invented on the spot, no recipe. I try to remember the recipe afterwards and write it down with notes on how it turned out. It is so much fun to cook this way. Try my recipe or make one up yourself. There is nothing to lose in such small quantities. Have fun.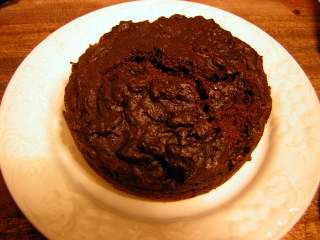 Ingredients
c. 1 T butter
3 rounded cutlery teaspoons sugar
dash salt
6 heaping soupspoons whole wheat flour
1 soupspoon soymilk powder
2 heaping soupspoons dutch process cocoa
c. 3/4 cutlery teaspoon baking powder
c. 1/2 cup leftover eggnog with some whiskey & dash of nutmeg

Instructions

Cream together butter, sugar and salt in small mixing bowl

Add dry ingredients on top. Mix dry ingredients well without yet mixing into butter/sugar mix. When the dry stuff is well mixed you can start mixing it into the butter sugar mix. Get it thoroughly mixed.

Alternate splashes of eggnog with quick mixing strokes. Mix quickly so as not to develop the gluten in the flour. Add enough eggnog so that you have a loose but not liquid batter.

Grease a small round crepe or casserole dish with butter.
Spoon in the batter.

Set the pan on a low rack in a two quart saucepan 1/3-1/2 full of water.
Cover saucepan. Turn on heat and get water to boil. Turn down heat so that water is at a high simmer. You don't want the dish to rock wildly in there but you want as high a heat as you can get.

Let simmer covered for c. 1 hour 20 minutes
(I think that is how long I cooked it for.) It's deceptive knowing when its done. The steam rises up and dampens the top so it will still be sticky while in the pan. I used the knife test several times hoping I'd get a clean knife. Finally I just said, this has to be done.

Use dishtowels to retrieve the cake/pan from the pot of hot water.
A china dish is harder to retrieve from hot water than a metal pan or a loaf by itself. You want a good grip on the edge of the dish. (Perhaps one should fashion a wire ring with handles onto the dish before setting in the water.)

Turn the cake out by putting a plate on top of pan and turning upside down. The cake should fall out. Quickly and carefully turn it back over onto its bottom. Place on a rack to cool. You can then decorate with powdered sugar, jam, or frosting if you must, or leave plain. This cake was delicious. I have yet to taste better chocolate cakes here in Maine than my own concoctions. Perhaps it is just the butter even though this has minimal butter? Also, this does not have a 'whole wheat' taste. It is as fancy and rich as it can be while still being somewhat good for you. And even though it is quite small, it will last one person for several servings. Or would make a perfect kids' teaparty cake. It is so cute.


Posted by Catinka Knoth at 2:37 PM EST