Testing Certain Blog Features
Topic: Blog Writing
Testing various options in this new Tripod Blogbuilder rich text editor called Tinymce? The following will only be of interest to people working with the Tripod Blogbuilder software. At the Tripod Club Blog, where members can ask questions and get help from each other, the question was raised: Well now how does one:

a) create a link that becomes an email link, ie. opens up the viewers email program with the given address?
b) link a picture directly to its larger view?
The first problem being that one can no longer write html code directly into the text window. One can write html code but one must start by opening the html window, before writing in the regular text window, or one will get mightily confused by what one sees in the open html window. (Html window is reached by clicking html button.) If one has already written in the opening window, (which is the Rich Text editor), this will all be viewed as html code in the html window. That means all punctuation symbols will be all translated to their counterpart html symbols - very hard to read around unless you're really good at this stuff. So if you go the route of using the html window you probably need to do it all there. The other problems are that a) every 'update' scrunches the code together. All the line spaces between tags that one generally uses for ease of proofing/editing will be gone. b) every 'update' rewrites the code to the format tinymce uses. A url to a location in your blog directory gets translated to a <BLOG_URL> tag for instance.
So I tested to see if one could perform these two actions using the rich text editor. Yes one can.
email link: to enable the link feature, something needs to be highlighted first. That something is whatever you want to act as a link. Text or picture is highligted/selected, the link feature becomes an option. You may then click that button to insert your link. If an email link, just write mailto:someone@address.com in the url blank that opens with the 'insert link' window that opens. In the 'title' blank enter what you want the mouseover title to say. If a small picture to large picture link, first make sure you have uploaded a larger picture to your filemanager and you have the url to that file. (I'm assuming you know how to do this.) You have also already added your small picture to your blog post using the 'insert picture' button. To make this picture a link, highlight/select it and click the 'insert link' button.

In the window that pops up, you enter the complete url of the big picture (which you already uploaded to your filemanager).
Tested examples follow:
email me at: info@catinkacards.com
Here is a recent painting that one of my students did in class. It is from a photo I took at McLoons in Spruce Head, Maine.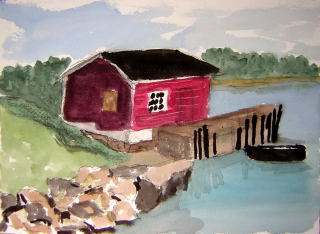 Posted by Catinka Knoth at 12:01 AM EDT
Updated: Saturday, 9 December 2006 4:33 PM EST