Apple, Cranberry, Raisin Stovetop Fruit Torte for One Recipe - another 'steamed baking' experiment.
Topic: Recipes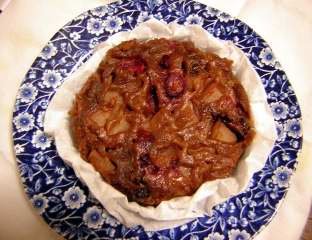 I had a hankering to try out this idea yesterday. What prompted the idea? Someone had arrived at my blog entry for stovetop chocolate bread by googling "how to bake a cake on a stovetop", according to my traffic logs. I usually replicate such searches to see just where my site turns up in Google. In the process I look into any results that intrigue me. Such a one, and I've found and read this one before, is an article by Ruth Ross on making stovetop steamed breads and cakes in Mother Earth News from the 1970's. The article reinspired me, gave me the idea to try a fruitcake. I peruse recipes to get a general gist or feel of how to make something. I find it so much more fun to invent my own recipe just to see if I can do it, or to see what comes out. However, I use a mix of eyeball measuring and exact measuring, and only write things down afterwards. I try to hold on to the memory until I get to a pencil. This is much like painting. I cannot know until I see how things mix up if the proportions are right. Everything depends on everything else - as in Life.
I started out by imagining what fruit I had on hand, and did I want to try to make it like a fruitcake or like a pie without a crust or perhaps a cross between the two. Pie without a crust called louder. Would I use the Macintosh apple or the Empire apple - Mac was better for cooking. But wait, this lot of Macs had been so tasty. I had to eat some of it first. Then there was a bowl of cranberries that had never made it into sauce at Thanksgiving. I salvaged a handful of those. And I had some good raisins. This was a perfect combination. The old raspberries in the freezer would have to wait for another experiment.
The Recipe

Ingredients:
1 1/2 T butter (sweet)
2 T dark brown sugar
4 rounded/heaping cutlery soupspoons wholewheat flour
dash salt (1/16th t.?)
cinnamon - generous sprinkings, 1/4 - 1/2 t.?
3 T light cream (actually leftover creamer containers from Dunkin Donuts)
3/4 large tart apple (with skin) cored and diced (into berry size)
c. 1/8 c? "fresh" (though mine were old) cranberries quartered
c. 2 T raisins


Instructions:
Cream butter and sugar in small bowl (pint size?) Add dry ingredients on top and stir them with a fork without mixing into butter/sugar mixture yet. When they are mixed, mix them into the butter mixture. *

Add the fruit. Mix well.

Drizzle a creamer (1 T) over mixture. Stir quickly with a fork but just a bit. Do another the same way. Finally the last bit of cream. A spoon is good here. Mix as quickly as possible. Better to undermix than overmix. The juice of the fruit will create extra mingling when cooking. Pat the batter into a small buttered cylindrical pan or dish, like a quiche pan. Tamp down a bit. Cover top of pan with aluminum foil just a bit larger than the circumference and smooth down around the edge. Set on a low rack in a 2 quart saucepan with 2-3" water. (For a low rack use an egg boiling rack, a cookie cutter, or an upside down tuna can with 3 holes punched in its bottom.) Cover saucepan and place on high heat until water boils. You must stay in attendance til it boils. Turn down the heat to just above low, so that water simmers.

I cooked it for two hours. An occasional listen to verify there is enough water still is good. I looked at it after 1 1/2 hours and tried testing with a knife. That was useless with so much fruit. Perhaps it was done then, I don't know. Carefully lift out the torte/pan then the rack. Set the torte/pan on the rack to cool. I did not wait for it to cool before I removed it from the pan. I think I should have. I ran a knife around the edge, placed a saucer on top, turned it upside down, put a small plate on its bottom and turned the torte right side up by holding it sandwiched between the plate and sauce. Then I let it cool. There had been a little bit of fruit and dough left behind in the pan. These I'd scraped out and added back to the torte. Had I let it cool properly this might not have happened. Next time perhaps I'll be more patient. In any case, once on the plate I could see this was a torte.

It was delicious warm. I had several wedges that evening. I prefer my tortes and pies cold. To me this tastes even better today. I'd love to hear of your own results trying this or any variations of it.

info@catinkacards.com
Catinka Knoth
38 Pleasant St. #201
Rockland, ME 04841


*Note - This is the method for piecrust or biscuits and even gravy. I've found this to be the best and easiest way to do most baking. Mixing flour with fat allows the use of much less fat. If you add flour alternating with liquid it requires a lot of mixing to get incorporated and that means a lot of fat to keep the starch/flour from developing gluten which is what turns a dough tough and gluelike when cooked.
Posted by Catinka Knoth at 2:09 PM EST
Updated: Sunday, 21 January 2007 2:50 PM EST