Stovetop Strawberry Oat Squares - a cooking experiment of my own invention
Topic: Recipes
Rolled oats (8 rounded soup spoons)
Mixed well with EVO olive oil (2? Soup spoons). (This was a light flavored oil. Next I will try a stronger flavored one, just to see if I can get away with it.)
Toast on stovetop in cast iron fry pan - keep turning so it does not burn.
Remove from pan
Melt pat butter (c.1 T.) in the pan
Oatmeal back in the pan on the heat. Shape into patty of sorts c. 1/4" thick
pour fruit over the oatmeal patty. The fruit in this case was defrosted strawberries and sugar, a leftover ingredient for a strawberry shortcake made several days earlier. The fruit was only supposed to be stored two days after defrosting. This was older than that.
Cook this whole mess down. Keeping scooping the runaway juices back into the patty. When it is finally not running juicy anymore, transfer the mess with a spatula onto a parchment paper. I formed a tinfoil 'pan' and lined it with parchment paper. Shape the mess as you wish. Cut and separate the pieces. Cool in fridge. This could probably stand to be coated in something so that one could pick them up easily. Coconut, cocoa, ground nuts. Yes, it is delicious.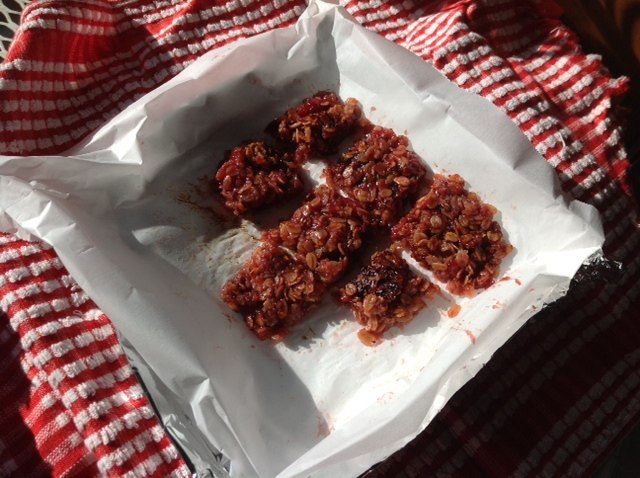 Posted by Catinka Knoth at 4:36 PM EDT