Onions Still Life and Old Fashioned Cold Therapies
Topic: Watercolor Class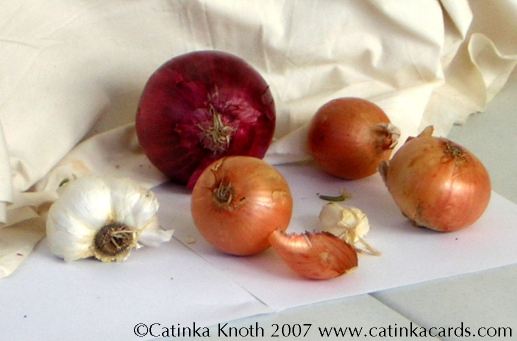 From a letter to a student who would miss this week's class because of a cold:
If you have onions in the house you may enjoy making a still life to paint. Class arranged this still life. We started off with a blind contour drawing, then a regular contour drawing, then did paintings as we wanted to. But before we picked up any tools we brainstormed several lists of ideas:

a) connotations, metaphors, qualities, descriptions, associations of onions and garlic
b) warm-up exercises one could do before painting
c) watercolor techniques one could use in painting
d) visual/image treatments one could use in interpreting the subject

I haven't formally written up the lists yet. Hopefully you'll come up with some ideas to add to it. I really like this brainstorming ideas process. I'm not sure others like it too well. It's important people find they have answers within themselves - tons of them.

You must immediately paint the onion still life (preferably from actual onions). First of all, painting will make you feel better. Second of all, you can then make yourself a good onion soup, which is a good cold therapy! Just think, two remedies in one!
Also,
- Drink plenty of hot water. Direct moist heat helps fight infection. That's what a fever is for.
- Take a dose of equal parts honey and vinegar with a bit of water - this helps cut congestion.
- The amazing therapy I discovered last winter - snort warm salt water up your nostrils. Mix a cup with table salt and quite warm tap water. Tuck your head down sticking your nose into the cup. Draw the water in slowly (through your nose) til it reaches your sinus then blow it out into the sink. Keep repeating. If you keep your head down it won't do that awful water up your nose feeling. When I did this with a cold/flue? last winter I was basically done with the cold in two days. I couldn't believe it.

Warm salt water is one of my basic cure-alls. That, and honey, vinegar, cold water, hot water, and ice - not necessarily together of course, and for various problems.
Posted by Catinka Knoth at 10:25 PM EDT