The Big Bad Winter and a Note to Self!, and... an Arctic Animals coloring book.
Topic: Life
0218/15 11:39a Note to self:
it is not the environment, the conditions, that matters to the animals. they go about their business no matter what, joyfully, zestfully, taking it as it comes, making the best of whatever is in front of them. we get caught up in the myth that we ought to have the conditions we want. let us instead make things wondrous no matter what, take things in awe as they come. yess! let me remember this.

I have been looking for every way to see winter differently so that i will not get as down about it when it comes rolling around again almost as if it never left.
so, for instance:
Do polar bears want winter to leave?
Do penguins want winter to go?
There are whole species that thrive in constant winter. They are made for it. They need it.
Our problems with it, (those of us who have problems with it), is that we have put on such heavy other associations with it. Let us instead just put on our heavy winter clothes, make our heat, and get to it!
After these thoughts came to me while watching the backyard animals go about their business, and my cat so thrilled in the window because the squirrel and bluejay were coming for peanuts so close to the window, that he had not a moment to even think about asking to go outside yet, I wrote up my reminder to self. And then realized, how perfect to connect it with the arctic animals coloring pages i recently put together. They are mostly demonstration drawings from the kids' art class series. Many of these images are also in another of my coloring page collection.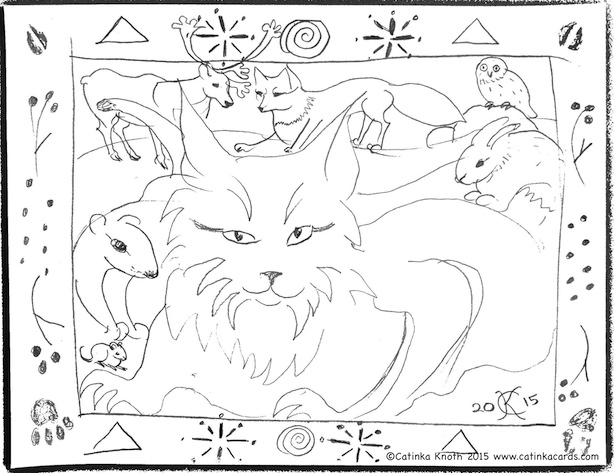 Download the Arctic Animals Coloring Pages Book, PDF!
Donate and find the other coloring book:
Posted by Catinka Knoth at 1:41 PM EST