Presidents' Day - a crow story
Topic: Stories
Presidents' Day.

Cory Crow had heard that it was Presidents' Day. He'd seen and heard the people talking about Presidents' Day sales as they returned to their cars in the parking lot at one of the big huge stores in the little town. He had heard more about it from a radio playing in someone's car as they waited for their family to return. Cory saw that lots of people were out shopping. He'd seen people going to the car dealerships too. He wondered that they would go to buy cars on this day.

Cory heard from the radio that Presidents' Day mostly honored George Washington and Abraham Lincoln. Washington had been the first president of the United States, and Lincoln, the 16th president. Washington was born on February 22, 1732, and Lincoln on February 12, 1809. Their February birthdays used to be celebrated separately but now they were celebrated on the third Monday of February. It was a national holiday. Government offices, banks, post offices, and schools were closed. Many schools also had a winter vacation week during this time.

Cory had seen portraits of these presidents on the people's money. Washington's face was on the old quarter coin and on one dollar bills. Lincoln's profile was on the penny and his face was on five dollar bills.

There were monuments and memorials of these presidents. A huge carving of their heads, along with two other presidents, was on a granite rock mountainside called Mount Rushmore. In Washington D.C. there was a large statue of Abraham Lincoln sitting in a throne like chair. They called this the Lincoln Memorial. The Washington Monument was a very tall obelisk. People came from all over the world to see these monuments.

There were also some well known paintings about Washington in the museums. Gilbert Stuart painted portraits in oil paints. Washington had commissioned Stuart to paint his portrait. Stuart did the painting but never delivered it to Washington. He kept the portrait so that he could paint copies of it to sell. Stuart realized that a lot of people would want a portrait of Washington, the first president of the United States. He painted many replica portraits from that first painting.

A painting by another artist shows Washington on his horse, in his role as the general who led the American colonies in the American Revolutionary War. A painting by Emanuel Leutze, Washington Crossing the Delaware, shows Washington as he led his troops in small boats over the Delaware River during a bitter winter storm.

Lincoln had led the country through the Civil War, a war that ended slavery in the United States. Photography was a new technology during that time. Civil War photographer Mathew Brady made many photographs of Lincoln.

Cory flew by the building with the big window where he'd seen people making art. It was a class at the library. One day a week there were kids with their parents who came to draw. He wondered if they would draw something for Presidents' Day. But the library was closed that day because of the holiday. Maybe they would have the art class the next day and draw portraits of Presidents Washington and Lincoln. Cory wondered what such portraits might look like.

He saw a newspaper that had fallen out of a trash can. The page it was open to carried a large advertisement for a Presidents' Day Sale. It was illustrated with a pair of stark black and white silhouette pictures of both Washington and Lincoln.
Cory got an idea. He could pluck out some of his own little black feathers and arrange them to look like that picture. He tried to do this in the snow, but the wind kept blowing the feathers away. Next he gathered a pile of twigs and tried lining them up to make the shapes of the presidents' silhouettes. Yes, that was looking a bit like the portraits in the newspaper. The wind soon blew the twigs away, but Cory felt very pleased with himself and his art experiment.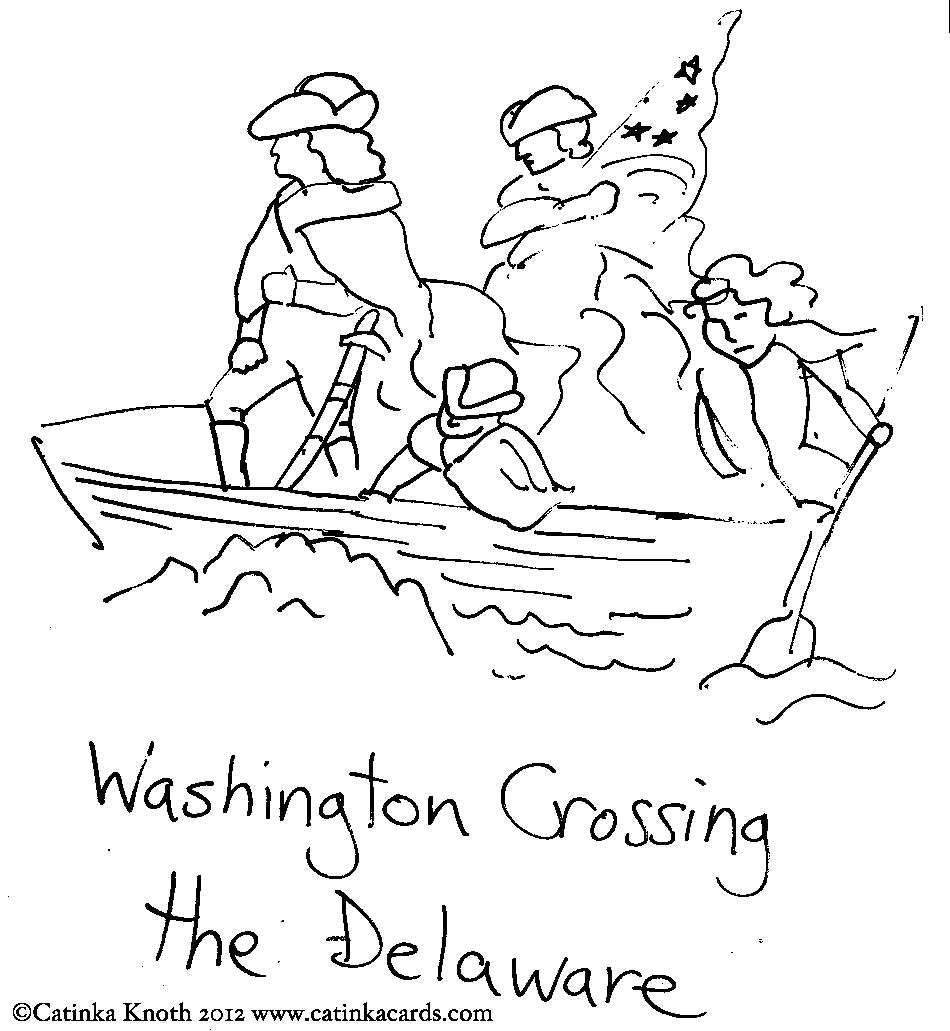 Posted by Catinka Knoth at 8:51 PM EST
Updated: Monday, 18 February 2013 9:17 PM EST