September 2015 adult art class lessons and student drawings displays - buildings of St. George, Maine
Topic: Art Class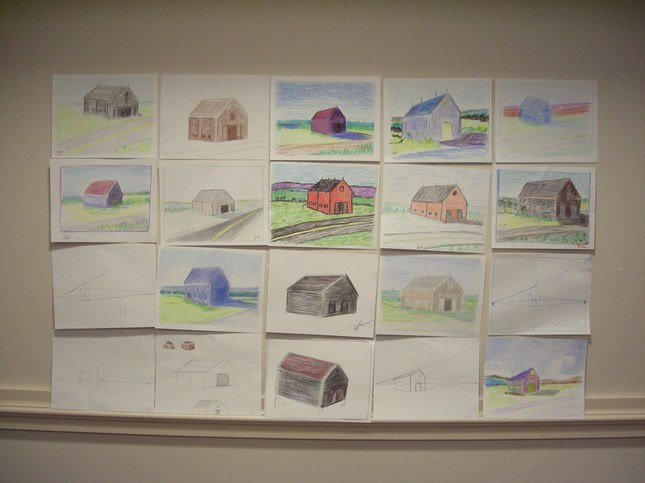 Maine farmhouse - student drawings and practices, adult art class, 9/21/15. Click links to see the art displays. We practiced parallelograms by
a)coloring into an imaginary outline
b) coloring in an outline.
Then we did the same drawing methods for shapes with converging edges.
Look for this idea in the roof of this reference photo. We drew that roof big on a fresh piece of paper. We tried to color in the shape as a whole, without outlining before. Then came the front wall of the house. Assess where the back corner of the back roof is and mark with a dot. We tend to make our short side of the house too wide. It usually appears much narrower than you think. Draw the line for the back of the roof. Judge the angles of the ground line. Remember you also judge where it is in relation to the edge of the photo, assuming the photo is not awry!
Windows - hang a very taught 'clothesline' for the windows to hang off, (second story). Use simple straight strokes hanging off that clothesline. Do same for first floor windows.
Oops! Find the centerline of the front wall, (street front), to make the center window and front door. Centerline? Where diagonals from corner to corner drawn on the front wall cross.
REMEMBER - verticals need to be VERTICAL. Stand up straight.
We are seeing leaps here in how many of these buildings are standing up straight.
Add the L of the building if you can.
Maine farmhouse, student drawings, adult art class, Sept. 2015
Harjula's barn - a kind of perspective practice to start. We drew those colored in boxes in both the wrong way and a somewhat right way. No real why is it right or wrong. Just draw and try to figure out what differences you observe. These colored in boxes are drawn without outlines. They are to be colored into imaginary outlines.
Then a bit of forced perspective just to get a taste of the concept. Get verticals vertical and not slanting. That is a top priority - or your barn will lean or start to float off its foundation.
Then we worked from the reference photo of Harjula's barn, located on Rt. 131, here in Maine. Any barn can do though.
Harjula's barn, student drawings, adult art class, Sept. 2015
St. George Grange, student drawings, adult art class, Sept. 2015
Posted by Catinka Knoth at 1:04 PM EDT
Updated: Saturday, 10 October 2015 1:49 PM EDT