Mardi Gras Masks Watercolor Cards Demonstration and March Motifs Workshop Series
Topic: Watercolor Class
Press Release: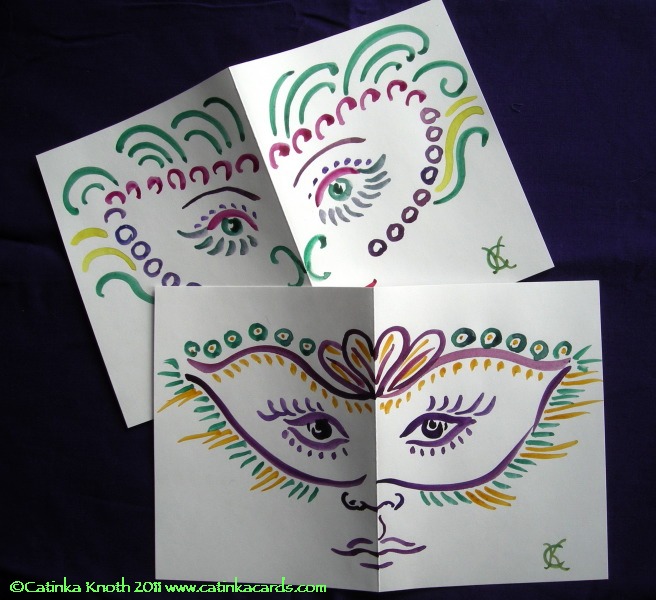 "Mardi Gras Mask Cards" Watercolor Demonstration, and "March Motifs" Watercolor Workshop Series with Catinka Knoth at Lincoln Street Center
Rockland - Catinka Knoth will give a free demonstration on painting Mardi Gras mask cards. Knoth invites people to join her at the "Messy Art Room" studio at 11 a.m. on Monday, February 28, Lincoln Street Center for Arts & Education, 24 Lincoln St. Attendees will see how to paint freehand Mardi Gras masks in watercolor.
The demonstration accompanies the five part watercolor workshop series, "March Motifs", that Knoth will teach on Tuesdays 10-Noon, March 1-29, at Lincoln Street Center. Each week explores a different March related subject. Participants will visit themes such as the Iditerod dog sled races, Mardi Gras, St. Patrick's Day, Arrival of Spring, and the circus. Knoth offers the series by suggested donation of $25 per lesson. Contact Knoth to confirm space, at 596-0069 or 542-7317, or visit
www.catinkacards.com
.
Posted by Catinka Knoth at 11:47 PM EST
Updated: Friday, 18 February 2011 11:54 PM EST