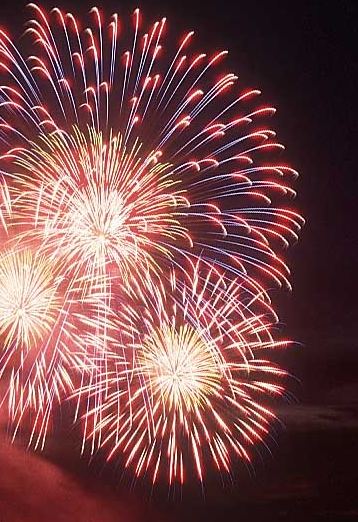 2017 Grand Marshal
Chubbs, An All American Dog, will lead the 2017 Thomaston 4th of July parade as the grand marshal to represent the parade theme, "Its a Pet -riotic 4th!"
2016 Grand Marshals
Daughters of Lura Libby, Kathleen (Libby) Anderson and Nancy (Libby) Barrett lead the 2016 Thomaston 4th of July parade as the grand marshals in honor of their mother, Lura Libby. The Lura Libby grammar school closed this year. The 2016 theme was "Hometown Proud - Hometown Talent."

2015 Grand Marshal:
John Vigue heads up the 2015 parade with the theme of "May the 4th Be With You!"

Grand Marshal in 2012, with the parade theme of "Once Upon A Time...", was Beniah C. Harding

Ben Harding, the 2012 Grand Marshal, has many stories to tell. U.S. House Representative Chellie Pingree recently delivered several medals to Harding for his services in World War II. He was active in civic duties after retiring from a career at the cement plant. At age 94, as a long time member, Harding continues to regularly attend the Thomaston Federated Church. He enjoys participating in community activities and corresponding with people everywhere.

Grand Marshals in 2011 were members of the first graduating class of G.V.H.S.

Here are stories of Grand Marshals from Thomaston's 2010 4th of July Celebration. They are examples in Thomaston, Maine, of how "People Make the Difference", that year's theme.. Pete Lammert, Gwen Ranquist, and A. Mason Johnson, were Grand Marshals that year.

Pete Lammert, a state forester, worked for years to save Thomaston's elm trees, and rebuild the heritage of magnificent tree lined streets. He witnessed the felling of Maine's last surviving elm tree, Herbie, and had a first hand look at Herbie's tree rings. The counting of the rings finally revealed the tree's true age. Lammert serves on the town board of selectman. He is also responsible for the awe inspiring displays of fireworks at Thomaston's Independence Day celebrations. This year he was awarded the "Community Person of the Year" award by Penobscot Bay Regional Chamber of Commerce.

Gwen Ranquist has been working for many years running the Thomaston Interchurch Fellowship Food Pantry at Watts Hall. This involves procuring food to stock the pantry, ensuring the appropriate storage and distribution of food and keeping up with required paperwork.

Fifty years ago A. Mason Johnson was was one of the youngest to be elected to Thomaston's Board of Selectmen. Currently he serves on the Budget Committee. He has served 16 years on the Knox County Commission, of which seven were as chairman. For 28 years Johnson ran the Agway Store on West Meadow Road. He also ran a dairy for 45 years. As a retiree he is working part-time as an employee at Walmart.

These three residents of Thomaston Maine prove on a daily basis that life in a small Maine town depends upon the security of knowing that "People Make the Difference".