Owls Head Harbor, painting by Catinka Knoth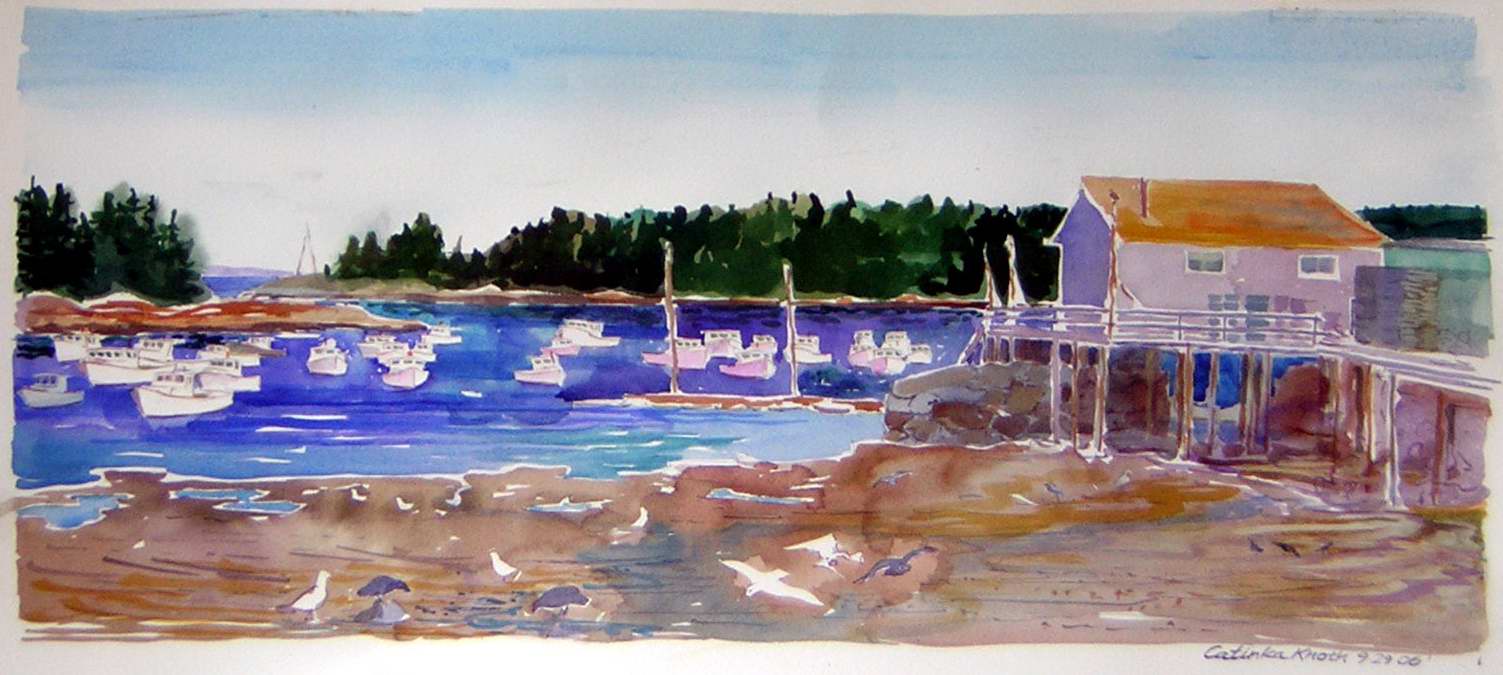 Click for large view of "Owls Head Harbor, Maine", Watercolor by Catinka Knoth, 9/29/06
measures c. 14" x 30"

I drew this out perhaps five years ago on location, drawing propped up with my car as the easel, trying to capture every boat in the harbor scene. I thought I'd get to painting it in, but it stayed clipped to the drawing board wrapped in a big plastic bag, its' future unknown, up in my stairway hall. I moved it to my teaching studio two years ago. The other day I was searching for a good piece of large watercolor paper for another project. I found the drawing and thought "Ahah, I'll use this for my project. Wait a minute, let me see what happens if I try to paint in this drawing first. I can always still use the paper for the other project if this doesn't work out." But then I had to cut down the paper, as there was too much empty foreground in the drawing. I was committed to the painting. My main reference for painting was the drawing and my imagination. At the end I found a photo of mine for some final details.
As I began painting I thought, "I'm going to see if I can find a buyer for this." I would use photo prints to show to prospective buyers, or maybe do a small photo mailing. There was a problem with the photos though which gave me pause to rethink my intentions. I wanted to offer large prints of the painting, instead of finding one buyer for it. It seemed more relevant to make the image available to more people. And I may make a small series in this panorama format of a few other harbor views. In the meantime I'm investigating what is involved with digitally reproducing the image as large format prints.
Tell a friend, share this page.
https://catinkacards.tripod.com/town_sets/owls_head.html
© Catinka Knoth - All Rights Reserved - 2006
Created and maintained by Catinka Knoth, Email me at info@catinkacards.com