Sammy Squirrel Wants Stories to Tell His Children - a squirrel story
Topic: Stories
Sammy Squirrel was up in the tree shelling and nibbling the peanut he had just retrieved from the critter feeder. He had to put a bit of effort to lift the wooden lid of the feeder and reach inside for a peanut, but it was quite doable for him. Sometimes he stayed right there and ate his peanut. Other times he might go bury it somewhere. This time one of the neighborhood cats was hanging around looking at Sammy. Sammy took his peanut up the nearest tree.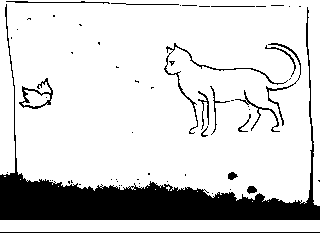 One of his favorite trees, a large maple tree, was no more. It had been taken down before a big storm several weeks earlier. The people had taken it down. This was a big surprise to Sammy because his nest had been high up in that tree. It was a nest of dried leaves. This was where he slept and hunkered down. The mass of dried leaves kept him insulated against the bitter cold winds that blew all winter. The dried leaves, his thick grey fur and his bushy tail kept his body heat snuggly around him so that he was warm. He slept a lot in the winter so that he would not need so much food - food that was not growing in winter.
But it was spring now. The tree buds were starting to come up. Life was starting to brim again. And Sammy just wanted to be able to tell some stories to his family..He still had to find Mrs. Sammy Squirrel. Sammy was young himself, so this spring he had to find and meet a squirrel who would be Mrs. Sammy Squirrel. But here was Sammy wanting to make stories to tell his children.
He gnawed his peanut hardly tasting it as he wondered how to make up a story. Every parent had stories to tell their children he was sure. That was what parents did. Children loved to hear stories. Sammy had loved hearing stories from his parents. What were the stories his parents told him? That seemed so long ago that Sammy could hardly remember, especially after sleeping so much during the long winter they had just had. Could he tell them about some of his dreams? He could if he could remember them. The dreams too seemed so long ago now that winter was over and the spring was pushing through. He had no idea how he would be able to tell stories to his children. He would have to start all over again with stories. He might not even have time to learn how to do it. What ever he told them would have to be good enough. Sammy worried his peanut shell and then threw it to the ground off his branch.
Sammy Squirrel would go around and ask the others in the neighborhood how they made up stories for their children.
Sammy Squirrel went to ask Cory Crow how he told stories to his children. Cory told him that he did remember all the stories his parents and his grandparents had told him. Bluejay said he remembered about three or four stories from his parents and just told them over and over again. The cat hanging around in the yard said he could remember his dreams and told those to his children. Mostly they were about chasing Sammy Squirrel around the ground and partly up a tree, or waiting patiently for a mouse to come out of a mouse hole. The mockingbird said he had lots and lots of stories for his kids. He liked to sing them all in one song, one right after another. "When you hear me singing my medley, I'm telling them about all the sounds I hear." said the mockingbird. Chippy Chipmunk said he would tell his kids about the day he got stuck first in the truck, and then in that store, and got so scared. He would keep telling them that story so that his children would be careful not to get lost like that. It had been just so lucky that he had been able to get back home after that adventure.
Sammy asked Fergy Fox about telling stories to his kits. "Sure I tell them stories. They just pop in my mind all the time. I know so many tricks and ways to go. It is just as easy for me to tell a story as it is for me to figure out how to sneak up on an animal that I'm hunting, or to quietly steal eggs from a chicken coop and disappear before anyone knows I did it. You know lots of ways to go through the tree branches. It is the same thing. The more tree branches there are the more ways there are for you to twist and turn and hide or run when you are escaping... Say, what are you going to do now that that big old maple tree is gone? That used to be a good bridge for you from one set of trees to that apple tree over there. Will you have to run across open ground all the time just to get between the apple tree and the critter feeder?" Fergy Fox could not help but want to know how Sammy Squirrel would act when he had to run from him again. They were friends right then, but there were times when Fergy got very hungry and just had to try to catch Sammy for supper. Fergy had had a big breakfast that day, and did not care about trying to catch Sammy. Sammy could always feel when he was safe around Fergy. And Fergy did not come down to the critter feeder too much. Fergy mostly came out at night and preferred the woods and the wilder neighborhoods.
An idea came to Sammy Squirrel for how he would make up a story to tell his children.
Yes, he could tell them anything he remembered about things that had happened to him. Or the stories he might remember from his parents. Or whatever he remembered from his dreams. This idea however seemed like it could be fun for him to try. He would go out and find five things he could bring home to the nest. Or he could just look around him and think of five things he saw around him. There was the old car with all that stuff in it. There was an old table sitting under the trees. There was a cat statue sitting in the flower bed. There was a ragged old windsock hanging from a pole. And there was a bucket full of water that used to be snow. Sammy wondered what would happen if he pretended these things talked to each other. What would they say? They must have seen a lot of things when he was not watching. Sammy would tell his children whatever he could think of that these five things might talk about. Each night Sammy would ask his children which of these five things did they most want to hear about that night? Sammy thought he was pretty sure he would be able to take it from there and be able to tell stories that he thought the five things might have seen in a day, or in any day long ago. Yes, this sounded like a good idea for Sammy Squirrel to try. Now he just had to go find Mrs. Sammy Squirrel. Where could he find her?
C.K. 4/21/14
Posted by Catinka Knoth at 9:55 PM EDT