A Winter Carnival and the Ice Crow - a Crow Story and Papercuts
Topic: Stories
A Winter Carnival and the Ice Crow - a crow story, and papercuts, by Catinka Knoth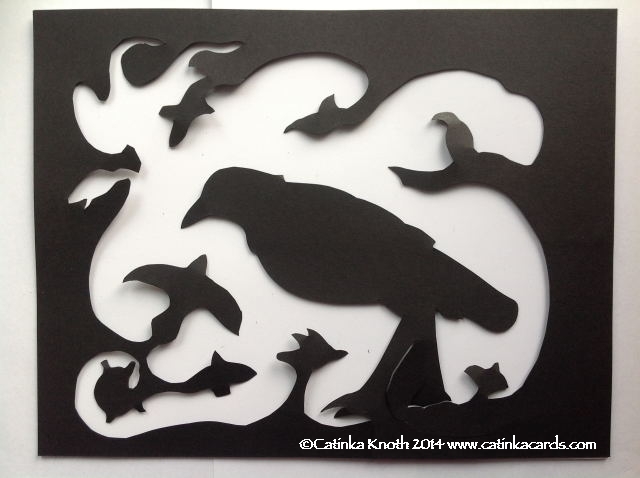 Crow papercut by Catinka Knoth
Cory Crow was flying aimlessly about trying to decide where he wanted to go that day, what he should do. At the moment he felt he should be either gathering peanuts from the feeding area and hiding them in caches, looking for crabs on the seashore, or gathering sticks for a nest it would soon be time to build.

It was sunny this day. Cory could see his shadow flying along across the snowy field below him. He stopped on a tree branch of the maple tree. It had snowed that night. The branches were all topped with snow. Cory drew his beak across the snow crisscrossing the branch with it as if it were a knife being sharpened. This beak and head gesture was a bit of head weaving that said to any nearby crows that he wanted to be friends, that he wanted to share in their food. As he did his beak rubbing he scooped up some of the snow and ate it. He hopped along the branch scooping up more snow, as if his beak was a shovel, He got a load of snow in his beak and swallowed it down. Snow was what the crows and most of the animals had instead of water during much of the wintertime.

Where should he go? As he flew about wondering what to do he saw cars gathering near the water's edge in one part of town. People where gathering there dressed in all their winter gear - snowsuits, heavy boots, mittens, scarves, colorful puffy hats. There were lots of kids. Some were dragging sleds, and sliding saucers. Some carried skates. Some carried skies. And some carried long sticks with a bend on the end.

It was the annual winter carnival the town was holding. The carnival had an ice carving competition. It had a snow fort building contest. A snowman contest. A sledding, sliding, and snowboarding hill for the kids. Places to do cross country skiing and snowshoeing. And an iceskating pond where the hockey players skated around so fast as they hit a puck on the ice with their hockey sticks trying to get it through the goal while keeping it away from the other team. All of this event depended on there being plenty of snow on the ground. This day was perfect for a winter carnival.

Cory landed on a nearby maple tree to watch the hockey skaters whizzing about. The icecarving competition sparkled in the sun as the carvers worked at making ice sculptures from blocks of clear ice. Cory, as do most crows, loved sparkly things. They fascinated him. The sunlight danced off the shiny clear ice in many shimmering rainbow colors. Cory went over to see if there was any way to pick up one of the lights. There were too many people around for him to feel comfortable going any closer than the tree branch he found. How he wished he could grab one of those lights and take it home with him. Then he would be able to watch it sparkle up close. He could watch from his branch though.

As Cory watched the carving he began to see animals taking shape from under the carvers' hands and tools. One was making a rabbit. One made a sleeping cat. There was a barking dog and an eagle with outstretched wings. And then Cory saw it - the Ice Crow. It was at least four times as big as Cory but he knew it was a crow. And it was clear - a crow one could see through. Was this a magic crow? Was it going to fly into the air? Did this crow need to eat? If so, how much food did it need? Was the crow inside that ice block the whole time? This crow had not come out of an egg. It had slowly appeared from the ice block as the carver hacked and chiseled away ice.

Cory had to find his friends to tell them what he was seeing. Perhaps he could tell them from where he watched on his branch. He started to holler as loud as he could in hopes the others would hear him. He also wanted to talk to the Ice Crow, but he was confused. Ice Crow was so big, transparent, shiny and sparkly. How did one talk to such a crow? Could that crow talk or hear?

A few of Cory's friends heard him faintly. Cory and the carnival were quite far from where they all usually liked to be. Some crows who lived near the carnival heard him too and came flying over to see what the commotion was. Cory's friends followed his faint but urgent sounds and came shortly. They were dumbfounded at the sight of the Ice Crow once they saw what Cory was hollering about. After a moment they all started hollering. They also saw the Ice Eagle with its wings spread out. The eagle never went in the air. They saw the dog barking. At first they thought they could hear it barking but that was only their imagination playing tricks on them. There was no sound coming out of the barking dog. The cat kept sleeping. Nothing odd about that except that their hollering did not cause the cat to twitch an ear or peek up at them. The rabbit too stood still. It was not afraid of the sleeping cat, the barking dog, or the eagle. All of these were animals that would normally like chasing and maybe having rabbit for supper if they caught it.

The Ice Crow stood still and did not answer their calls.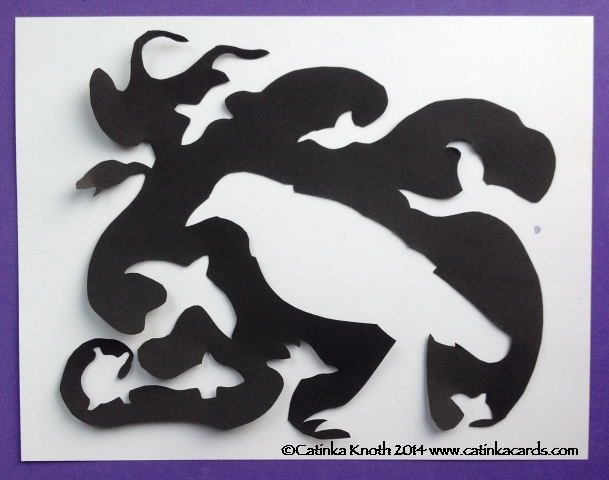 Ice Crow papercut by Catinka Knoth (negative from previous cut).

They were entranced by how sparkly and glittery it was, so they did not give up in trying to get it to answer them. They were also secretly hoping this Ice Crow so big, shiny, glittering, and magical looking, might be their leader and tell them what to do whenever they got confused about things. They often wished they had someone to decide things for them, to tell them what to do, to tell them the right things to do so that they could usually be right in whatever they did.

It was still winter though and the sun was starting to set - early as it always did in winter. The crows had gotten no response from the Ice Crow. They flew home to their usual fir trees for the night. They would come the next day to see if they could change the Ice Crow's mind.

The next day was Sunday. The sun rose making the sky pink. It melted some of the snow on the branches so that they formed ice droplets twinkling in all the trees. The crows, after they had eaten from the food that the lady in the truck so often brought for them, flew over to see the Ice Crow again, and to ask it again for help. They started their hollering at the Ice Crow. This time they did not holler as much but did some of their gurgling clucking sounds, just the way they talk to each other when they are being friendly with each other or asking to share in the food. First Cory pricked up his head because he thought he'd heard an answer from the Ice Crow. He cocked his head to listen better. He noticed that the Ice Crow's beak was not so pointy anymore and the eye could not be seen as clearly. The feathers were disappearing and the body was looking wet. Cory thought he'd heard the Ice Crow saying "Be your own leader". Another crow stopped with his mouth open because he too thought he had heard the Ice Crow talk.

"Follow your nose!" is what he thought he had heard. One by one the crows fell silent as they each thought they were hearing the Ice Crow answer them. "Be as a crow!" one heard. "Live!", "Fly!", "Eat!", "Play!", "Holler!", "Make a nest!" . They each heard something different but not really that different. The Ice Crow was silent. Its beak was shorter and stubbier. the eyes closing, Where there had been feathers was now quite smooth. The sun was setting again.

The crows flew home to their roosts. They talked a bit about the things they thought they'd heard the Ice Crow say. They could not agree on what they'd heard. They wondered what they had heard.

That night the wind blew in from the South. It was a warm wind. By morning it was very warm out. The skies were grey. It looked like rain. And then it did rain. It rained almost all day. The crows stayed hunkered together in their roost in the fir trees. By late afternoon the rain stopped though the sun did not come out. It was still very warm out. Most of the snow was washed away. The crows could not wait to visit the Ice Crow again to find out what it had said to them.

They flew over to the winter carnival site. It was not much to look at without the snow around. The ice sculptures had melted down a lot in all that rain and warm air. There was not much left of them. The crows looked at what used to be the Ice Crow and was now just a lump of ice, like a little tree stump or ice log standing up. They could not believe what had happened to their glorious Ice Crow. They gave a few hollers at it. They hopped over to have a closer look. There were no people around now to scare them off. It was not even sparkling now.

Had the Ice Crow spoken to them? They had been so busy hollering and talking at it that they could not be sure what they had heard. They wondered at the mystery of it and talked with each other about it. They spoke and listened to each other. They wondered if it was perhaps themselves they had heard. They remembered they had been happy as crows without a leader before, so they could be happy now without a leader. The Ice Crow had been beautiful, but had soon melted away.

©Catinka Knoth 2/03/13
Posted by Catinka Knoth at 7:03 PM EST