"Deer in Woods" Watercolor Painting Demonstration, and November Watercolor Classes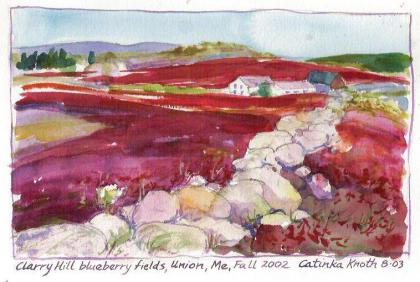 Press Release"Deer in the Woods" Watercolor Painting Demonstration with Catinka
Knoth at Lincoln Street Center 
Rockland - Catinka Knoth will give a free demonstration of painting a woodland
scene of deer, in watercolor. Participants may join Knoth at the "Messy Art
Room" studio at 11 a.m.  on Monday, November 1, Lincoln Street Center for Arts &
Education, 24 Lincoln St. Participants will see sumi-e style painting,
wet-in-wet, silhouette style, and negative painting techniques.  
This accompanies  the five part watercolor workshop series, "Painting Woodland
Animals and Fall Landscapes", that Knoth will teach on Tuesdays 10-Noon,
November 2 - 30, at Lincoln Street Center. Each week will be a different
subject. Possible subjects are deer & moose; chipmunks & squirrels; pheasants,
turkeys, and Canada geese; birches in fall, and crimson blueberry fields. The
class is available by suggested donation of $25 per lesson. Contact Knoth to
confirm space, at  542-7317, or visit www.catinkacards.com. 
Each Tuesday is a different subject related to November themes.
11/02         Deer & moose
11/09         Chipmunks & squirrels
11/16         Crimson blueberry fields
11/22         Pheasants, Turkeys, and Canada Geese
11/30         Birches in a fall landscape
 -----------------------------
Sending this as a forward from my yahoo mail. Hopefully the pic will show too.
It's of blueberry fields in fall.
Posted by Catinka Knoth at 3:27 PM EDT