Chinese Papercuts - The Year of the Dog
Topic: Seasonal/Holiday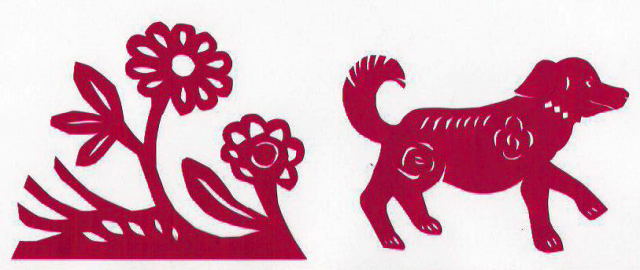 This week in my art classes, for both adult and child, we did variations on the dog theme, in honor of the Chinese New Year which lasts from Jan. 29 to Feb 17 (this year, the year of the dog). I brought in some examples of Chinese papercuts of dogs I'd found online. It had taken me hours to find just a couple. In hindsight, I should have been making my own during that time. It was not until my last class for the week was over that I made one (see above). We ended up spending the time on Western style dog drawings. One student, inspired by the story of
Roslyn Stendahl,
who kept a daily visual journal of her beloved Alaskan Malamute, has started drawings of her own dogs.
Read more...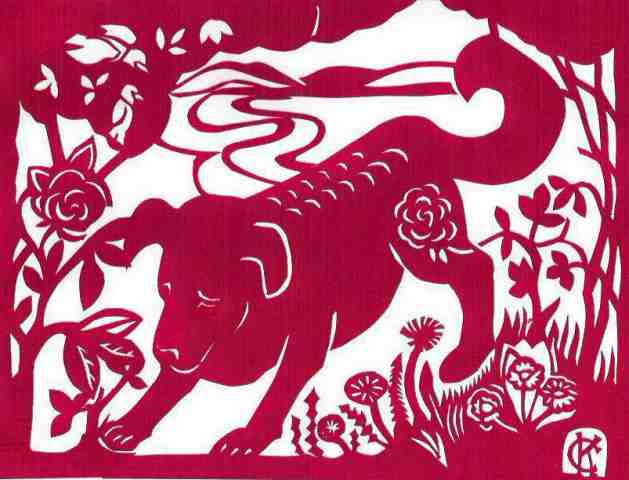 Hours later... I've been making this papercut. My eyes have gone bonkers. I did it freehand but used a thumbnail sketch as a guideline. Mostly I used the xacto knife. My wrist will probably feel it tomorrow. Because I have so many free hanging pieces it got a bit tangled when I glued it down. I used Yes Glue somewhat thinned. I could not get the cut mounted straight. I wanted to do a series of four to put in a group show we're having this month at the Lincoln Street Center, but I don't think my wrist or eyes can take anymore for a few days.
Here is an easy papercut dog template to which you can add your own decorative cuts. One of the drawings I did for the adult class working from one of my favorite animal drawing books, The Art of Animal Drawing, by Ken Hultgren He was a former Disney animator. This book is chock full of dynamic drawings showing structure and gesture.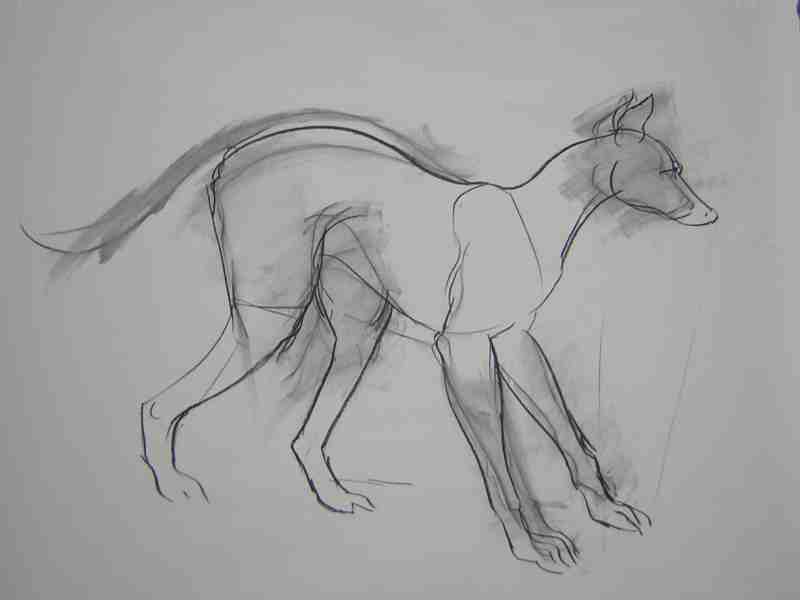 More drawings for class:

Greyhound, after Ken Hultgren Cocker Spaniel, after Ken Hultgren

Apparently the art of papercutting first became a popular activity among wealthy Chinese household mistresses around the time of the invention of paper. Centuries later, when paper became available as an inexpensive item, papercutting became a folk art. Papercuts were exchanged as expressions of good luck and good will. The artist can make simple or complicated images from a single sheet of colored paper which is then mounted on white paper for the wall or hung in a window as is. Artists also make multicolored collages using tissue papers. Cutting is done with scissors for outer edges and a sharp craft knife to cut patterns into the paper. The style is quite decorative. Papercuts to celebrate the New Year, also known as the Spring Festival, are frequently made from red paper. Red papercuts decorate many a shop and customers buy them eagerly. In Yinan County, China, villagers cut 2006 multicolored paper dogs to greet the new year. A tradtional theme is the Chinese zodiac. Last year artist Clarence Lee completed the final design for a series of twelve zodiac animals for the United States Postal Service. Commissioned over twelve years, the first class postage stamp series is called The Lunar New Year Collection. More about Chinese New Year's traditions at Mama Lisa's Blog
Posted by Catinka Knoth at 6:23 PM EST
Updated: Saturday, 9 December 2006 5:19 PM EST