MacNCheese - one bowl, stovetop 'oven' invention
Topic: Recipes
MacNCheese - one bowl, stovetop 'oven' invention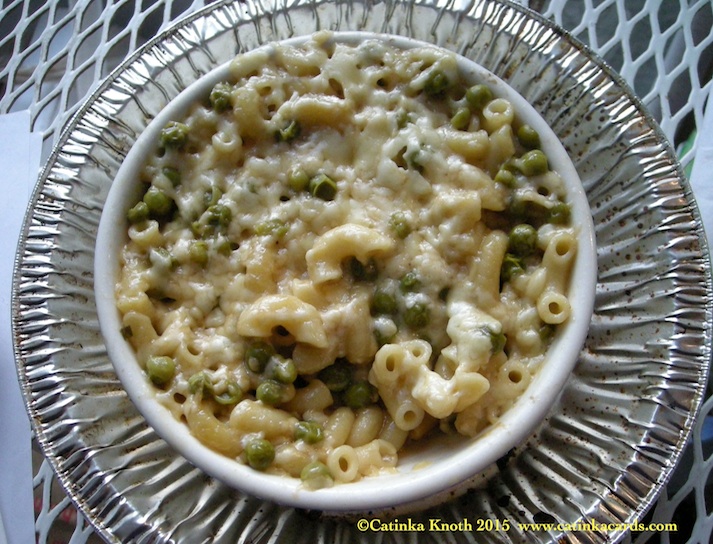 My delicious cooking experiment for dinner tonight, 4/16/15. Have never truly made mac n cheese. This was a test to see if I could make it in my stove-top 'oven' invention - the 'oven' made of two aluminum pie plates, some tin foil, set to cook/bake in the cast iron fry pan on my stove-top burner.
How to make? Loose recipe - measurements approximate as I eyeball everything. and use cutlery spoons instead of measuring spoons:
4 cupped palms (maybe 8 T. ?) macaroni
c. 3/4 - 1 t. oriental ramen soup flavor/seasoning
c. 1/2 t. cider vinegar
c. 4 T (c. 1 handful/cupped palm) frozen petit peas
two 1/8" slices sharp cheddar cheese - enough to cover the top.
Macaroni first in the bowl, (seems to be a one cup bowl).
seasoning & vinegar sprinkled over mac.
Peas next.
Cheese on top
Water even with the cheese.
Cover with a tinfoil tent, shiny side down.
Set in foil pie plate. Cover with inverted foil pie plate.
Set in fry pan. Cover fry pan.
Cook til done with heat set to low/mediium - #3 on my burner gauge. I cooked an hour. Was probably done earlier. At some point I could hear things steaming and sizzling over. Turns out something was getting over the edge and burning, but not the food in the bowl. It was excellent. I have saved half for tomorrow.
Posted by Catinka Knoth at 9:26 PM EDT