And the beet goes on - stovetop pan roasted beet, or potato, for one.
Topic: Recipes
A) Leftover beet with butter, cold slice. It was the middle slice and was 'baked' in my little make-do fry pan oven.
B) The root piece tasted good.
C) With the pickled beets juice, and the last couple pieces of pickled beets. (Christmas present from a friend.)
D) Taste. See that skin around the edge, like the crust on a slice of bread.
E) Gone except a touch of woody skin and the top.
All delicious.
A)
B)
C)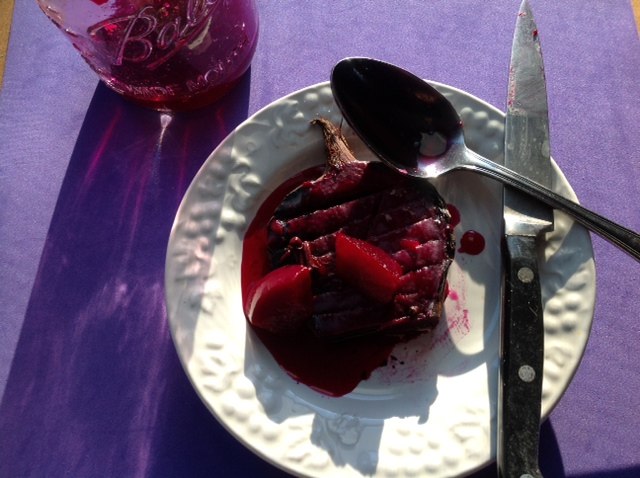 D)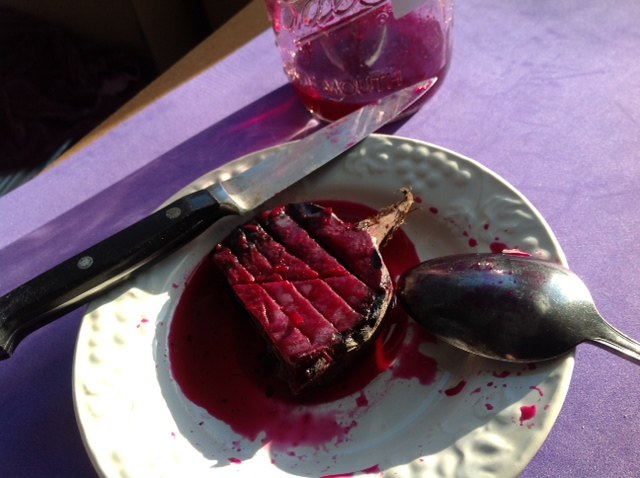 E)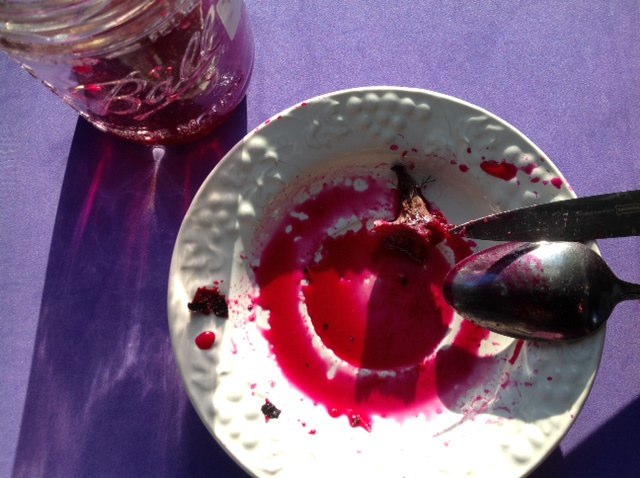 Stove top pan roasted beet or potato.
Inspired by an unusual baked potato looking like a piece of bread served me at a Christmas dinner. I loved the slice of breadness of it so went home and tried my own version. It works for potatoes, and now beets it turns out. Since I cook single servings, don't use a toaster oven, microwave, and certainly not a big oven for one vegetable, I often use the cast iron fry pan on the stove top. I finally realized that aluminum pie pans, leftover from commercial pies, make a great little oven inside the covered fry pan - the closest thing to cooking with dry heat - baking.
For a potato - slice it in 1/2" slices the long way (end to end, rather than around its equator. That will be two slices for a small potato, and three for a large potato. Keep the skin on, (after you wash the potato well). The middle slice ends up with the skin around the edge. Place slices, skin side down, in the pie pan in the fry pan, which has been preheating at #3, (is the gauge on my electric stove - moderate or just above low). Cover with another pie tin. Then cover the fry pan too.
It will char after a while. I have not timed how long. I just try to check it. The slices need to get flipped. If it ends up being cooked thru already, then no need to flip. (You do know how to check for doneness w a knife or fork?!) When done, serve lots of ways. Even just ketchup is good! Butter & salt; vinegar; salad dressing; cheddar cheese; caeser dressing; sour cream.
For a beet - wash well. Cut the same way (as the potato) - root to top, 1/2" slices. Keep the skin on. It takes longer to cook than a potato. When done, spread butter on the openface side. Slice down almost all the way thru the skin, so the butter will seep into the cuts. Sprinkle of salt would probably be good. I have been adding a wonderful pickled beets juice leftover from a friend's homemade pickled beets. You can use vinegar. The surprising discovery here is that the skin tastes good with the beet. Just trim off a few 'hard' bits if there are any. The roasted beets are delicious.
Posted by Catinka Knoth at 4:41 PM EST