Paint Snowy Evergreens in Winter - Watercolor Class
Topic: Watercolor Lesson
For Christmas and winter, snow is here. Try these watercolor and drawing exercises for painting evergreens in snow.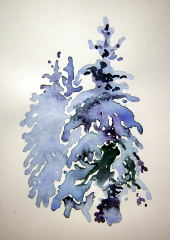 Print out and practice the schematic trees in this practice sheet to get different takes on evergreens as forms in space:
Schema drawing of evergreen trees
Print out the sampler and try these three ways to practice watercolors of winter evergreens.
Pale blue wash for overall tree, then drop in undersides/dark areas

Contour drawing of tree, negative paint background, lay in dark undersides of branches.

Pale peachy underwash for trees, lay in darker undersides of branches.

Sampler of watercolor styles - evergreen trees in snow

Practice negative painting a background wash around the main form or subject. Make the wash move around the picture instead of horizontally or vertically. Let it swirl as the weather patterns you see moving over our planet from the satelite pictures. Pull the puddle of wash around. Let the paint/pigment swirl in the puddle. Be spare with your mixing. Let the water do the work. Have fun watching it come out.
Background watercolor wash for negative painting evergreen tree in snow

Large version
Freehand watercolor sketch - Evergreen tree in snow

Photo of Evergreen trees in Snow, St. George, Maine, by Pat Laxton
Posted by Catinka Knoth at 3:28 PM EST
Updated: Saturday, 8 December 2007 3:31 PM EST