Dog-Sled Mushing, Alaskan Huskies - Watercolors and Coloring Page
Topic: Seasonal/Holiday
Try your hand at drawing and painting huskies and sled dogs! Find some reference pictures of Alaskan Huskies, sled dogs, and dogsled teams, dog mushers. Some reference photos came from a Maine Sled dog races challenge site, I believe, but it no longer exists.
Read about the Iditarod sled dog races which start March 3, 2007.
http://www.iditarod.com/2007/dailyarchives/story_218.html
Dog sled team wash painting
Do some direct painting studies in monochrome wash.
A)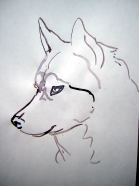 B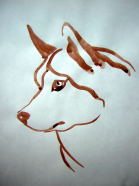 Practice some husky faces with brush and wash working directly with simple lines, a sumi-e style.
Husky face sumi-e line painting-A
Husky face sumi-e line painting-B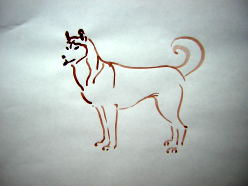 Alaskan Husky Brush Line Drawing
Once you have a line painting or drawing you like use it to trace over directly on your watercolor paper and develop a watercolor spontaneously.
Wolf Dog watercolor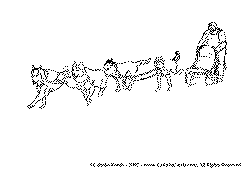 A coloring page from a drawing study of a dog mushing team.
Posted by Catinka Knoth at 12:01 AM EST
Updated: Thursday, 8 March 2018 1:06 PM EST