Midcoast Maine lighthouse watercolors in art card and notecard collections. Owls Head Light, Marshall Point Light, Rockland Breakwater Light, Curtis Island Light, Indian Island Light, Pemaquid Light, Burnt Island Light, Hendricks Head Light, the Cuckolds, and Ram Island Light. I drew or painted each lighthouse on location, except for Pemaquid and Burnt Island, which I did from photos. (I feared falling backwards on the glacial Pemaquid rocks, and lacked access to Burnt Island.)
Art cards measure 5"x7", a standard frame size. Sets are $15.00 (four cards). Most images may be ordered as an individual 5" x 7" card - $5.95 (includes shipping). These groupings may also be ordered as notecards, 4.25"x5.5", priced at $15.00 for eight. Most images also available as larger unmounted 8.5 "x11" prints, $25.00. Shipping is Priority Mail in the continental U.S.
Click here to place an order or contact me.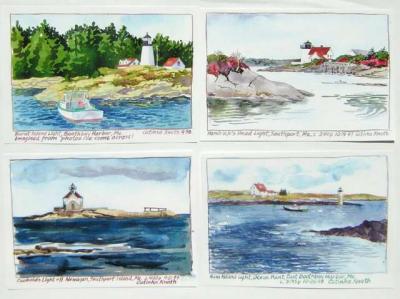 Boothbay Harbor Lighthouses
Burnt Island Light, Hendricks Head Light, Cuckolds Light, Ram Island Light.