Here are some of my pen and ink angel drawings to color or paint. Click the titles for enlargements to print out. Include credit for the use of the art: ©Catinka Knoth - www.catinkacards.com. Contact me if you would like to display them on a webpage.

Order Cat & Dog Coloring Notecards - Pen & Ink Animal Drawings by Catinka Knoth

Consider making a donation using PayPal!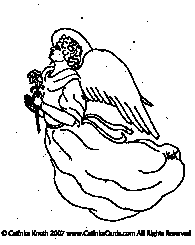 Angel with a Lily